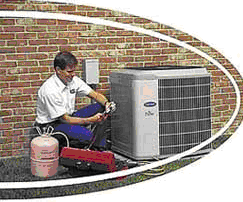 Emergency Repair Service Hotline: (502) 839-3709
The Service Department at Wade Hatchell Heating & Cooling, Inc. is committed to providing our customers with uninterrupted service availability. This is achieved through a team consisting of one Service Manager, and two Service Technicians. Our service technicians are true professionals in the HVAC field, ready to put their years of experience to work for you. By taking advantage of product training schools and seminars, they are always proficient with even the latest of technological advancements. Each technician is EPA-approved and certified to handle refrigerants. As well as Nate Certified
From a routine service call for seasonal maintenance to an emergency situation, Wade Hatchell Heating & Cooling, Inc. responds. Our complete inventory in service parts allows for quick response time and fewer delays. Your time is important to us. That's why when you call Wade Hatchell Heating & Cooling, Inc. for service you get an appointment at a precise time that is convenient for you. The service department is open from 8:00 a.m. to 5:00 p.m. and offers "24 hour emergency service". When you need us, we will be there!!!!
Flat Rate Priciing

We at Wade Hatchell Heating & Cooling, Inc. would like you to know that our service department has adopted the "Flat Rate" method of pricing service work. It is nationally recognized, and was developed to make sure that you, Our Customer could feel in control of a service call from beginning to end. For many years, those in our business have used the "Time & Material" method of pricing service work. We would tell you that there would be some basic charge for the initial on-site period (usually one-half hour) and then a dollars per hour charge plus materials from that point on. One problem with the "Time & Material" method is that some customers are in the unfortunate position of paying more for a given service task than others because the technician on the job is very good, but slower than others. Sometimes poor weather conditions slow down a job, causing you to pay a higher final cost. Or maybe a part needed for your system is not on the truck, and you pay for the time it takes to obtain it.
In the past, we had no better way to price service work. But developments in our industry now make it possible to offer you a better choice:Customer Assurance Pricing. A nationally respected organization has accumulated data on the proper time to complete thousands of service tasks. This time is based on a fully trained and qualified technician with the latest diagnostic tools arriving at you home or business.
We will now give you a firm price for the trip and thorough diagnosis of your system, which we call our "diagnostic charge", first. Then, once we discover the problem, we will give you a firm up-front price to repair it. This price will include everything all labor, parts, miscellaneous materials, and parts acquisition time, if any. Using this quoted service pricing method there are no longer any big surprises at the end of the job. After all, it is just as discouraging for us as for you when the repair bill grows so large that you might have considered replacing your old equipment before spending so much to fix it. With Flat Rate Pricing, you can be in control of the service cost every step of the way.
The bottom line is that Wade Hatchell Heating & Cooling, Inc. only installs the highest quality original equipment manufacturer parts or superior quality replacement parts that we know are going to last. Please let us know your comments concerning Flat Rate Pricing and any other areas in which we can be of service. No matter how small the displeasure or how minor the irritation; we want to know when you are not happy with our service. Your satisfaction is our highest priority.
Thanks again for being our customer!