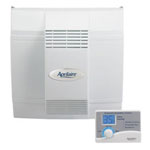 Humidifiers work in tandem with your furnace system to deliver desired humidity levels throughout your home. Maintaining proper humidity levels in your home is essential to maintaining indoor comfort during the winter months. Moderate humidity levels make you feel warmer at lower temperatures, which means you can set your thermostat lower without sacrificing comfort.
The air inside your home is drier than you think.Heating your home dries out the air. The resulting dry air absorbs moisture from you and everything inside your home. Even newer, tighter built homes will succumb to the negative effects of air that is too dry.
Depending on the size of your home, we offer a variety of Aprilaire humidifiers to deliver the right amount of moisture into the air. Sizing of humidifiers is measured in Gallons Per Day (GPD), and we offer models from 12 GPD to 18 GPD . We also offer steam humidifiers which provide up to 23 GPD.
Learn more about the full line of Aprilaire whole house humidifiers
Humidification Product Offering